Dacaze


Dacaze is an Arcane Codemon. It is half Wind and half Swamp. It can be Summoned by sacrificing a Hipize and an Ikae. It bears a resemblence to Rayquaza, a pokemon.
Appearance
Edit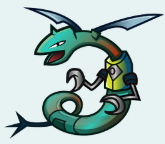 Dacaze is a serpent-dragon. It has a pair of wings near its head and two arms ending in pincers.
Its Epic form changes its body coloring from green to teal and its armor color from blue to yellow.