Eadaca


Eadaca is an Arcane Codemon. It is half Swamp and half Heaven. It can be Summoned by sacrificing a Lorcan and an Ikae.
Appearance
Edit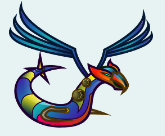 Eadaca is a serpent-dragon with a beak and quadruple-spiked tail. The wings near its head are each split into three points.
It's Epic form changes its pattern colors in many places.
Ad blocker interference detected!
Wikia is a free-to-use site that makes money from advertising. We have a modified experience for viewers using ad blockers

Wikia is not accessible if you've made further modifications. Remove the custom ad blocker rule(s) and the page will load as expected.