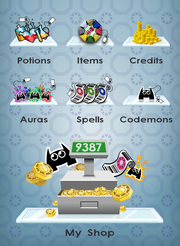 The
Market
is where players can buy and sell
Codemon
and
items
for
credits
.
Players can purchase Healing and DrinkMe Potions for a fixed price. Potions cannot be sold at the Market by players.
Other helpful game items, such as Codeboxes or extra market slots for the player's shop, can be purchased here.
Players can purchase credits with real world money. Players can purchase 5,000

, 15,000

, 50,000

, 125,000

, or 300,000

. There is also an option to receive credits for free by downloading certain apps or filling out surveys.
Auras, spells, and Codemon
Edit
Players can purchase auras, spells, and Codemon from other players at varying price at their respective stores.
The My Shop feature allows players to sell their items and Codemon at their own price.
There is a default maximum of being able to sell three Codemon, five spells, and three auras at a time.
This can be increased by purchasing an extra market slot; an extra market slot for selling Codemon costs 80,000

, an extra slot for selling spells costs 20,000

, and an extra slot for selling auras costs 100,000

. Slots can be purchased through the Item store.