Oisor



Secondary element

Barcode
Oisor is an Earth Codemon. Its secondary element is Fire.
Appearance
Edit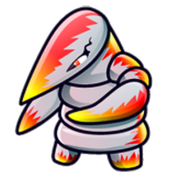 It resembles a golem or mole of sorts with flame patterns on its nose and arms.
Its Epic form extends the flame patterns up its face, across his arms, and onto his feet and body as well.  
Ad blocker interference detected!
Wikia is a free-to-use site that makes money from advertising. We have a modified experience for viewers using ad blockers

Wikia is not accessible if you've made further modifications. Remove the custom ad blocker rule(s) and the page will load as expected.