Riorlo


Riorlo is an Arcane Codemon. It is half Earth and half Thunder. It can be Summoned by sacrificing a Diori and an Ornalo.
Appearance
Edit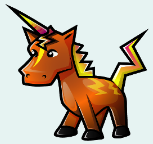 Riorlo is a horse with a lightning bolt for a tail and a smaller one on its forehead.
Its Epic form gives it a large horn on its head and lightning bolt patterns on its back.