Velemi


Velemi is an Arcane Codemon . It is half Water and half Fire. It can be Summoned by sacrificing a Rinvem and a Kaleti.
Appearance
Edit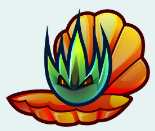 Velemi is a fireball in a clam shell.
Its Epic form changes the color of its shell from blue to orange and changes the color of the flame from red to a greenish blue.